10Bet review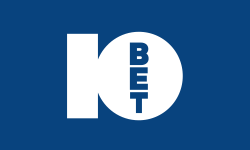 BettingFellow Rating: 8.70/10
10bet has served as an example of just what can be done over a short amount of time if you just have a clear vision and work hard toward it. Within a decade they moved from a small newcomer in a market full of huge companies, to one of the most well-known online bookmaker brands. How, exactly? That's what we will try to find out on this page.
The first thing you are likely to encounter when accessing the 10Bet site is a simple, neat interface. All in all, it's nothing too much of the ordinary compared to most of the competition but provides a pleasant user experience.
The second thing you'll likely notice is just how comprehensive 10bet's offer is. Not only is basically every sport represented, no matter how narrow the niche but all of them have a multitude of markets. Furthermore, 10bet covers smaller leagues and events that even top bookmakers omit. This varied and diverse offer is probably 10 bet's greatest strength.
There are a lot more boxes a bookie has to check to truly be worthwhile, however. Keep reading to find out how 10Bet's sportsbook offer compares to some of the best bookmakers in the business.
10Bet – Focused, innovative, and daring
10Bet first went online in 2003. From our perspective, that might seem quite a while – but many consider them a relative newcomer to the world of online sports betting. To understand why, we have to understand the full context of that time.
Online bookmakers really started getting big in the late 90s and early 2000s. Now, by today's standards, it's not that rare to see a betting site pop up out of nowhere and be successful. However, back then, betting was dominated by popular brands that punters were familiar with. The internet was still young and it took some time for people to start trusting online bookies with their money – that's why familiar names from high-street betting shops were the only ones considered trustworthy enough.
And in that kind of environment, only a precious few online-only bookies were able to grab the public's attention and keep operating. 10bet is one of them. That alone is impressive in its own right, never mind that they continued to grow and improve their offer.
They do remain a relatively small company, and that comes with its own set of advantages and problems. Time has shown, however, that 10Bet can be trusted just as much as it's larger, brick-and-mortar betting shop competitors.
Beyond that, precious little information is available about 10Bet. What we do know is that they're based in London, UK and that their services are available in more than 70 countries worldwide. Officially, they are operated by Ocean Star Ltd., which is a company registered in Malta.
They are also known as Juventus' official partner. Some punters care about this aspect less than others, but it can't hurt to know.
Licensing & Safety
Continuing with the topic of how online bookies managed to win the trust of bettors worldwide – the licensing. Any respected online bookmaker is a legitimate business and must conform to laws and regulations. This is achieved through issuing remote gambling licences, indicating that a betting site is under the jurisdiction of a regulative body.
10Bet possesses several such licences. The first we'll mention is one issued by the UKGC or the United Kingdom Gambling Commission. This license allows 10Bet to legally operate in the UK, and is one of the most respected in the business.
Their services for Republic of Ireland residents are operated under a Remote Bookmaker's Licence issued by the Office of the Revenue Commissioners. For all other users, the most relevant licence is the one issued and regulated by the Malta Gaming Authority.
We should note, however, that 10Bet's services as an online casino are not covered by any of these. These are instead run by ISB Alderney Ltd and are operated under that company's license. This is a bit strange, but since we're focused on 10Bet's online sportsbook, we won't get into it too much.
Because of how this licencing works with different countries' laws, not everyone can access and use 10Bet's services. Residents of a number of states cannot use this betting site, and you should be aware of this before trying to sign up. Simply check your country's availability before going any further.
Next up is the matter of 10Bet's cybersecurity. As is a common practice among the best online bookmakers (or indeed any website that requires real money transactions), they use secure Transport Layer Security and SSL protocols to ensure absolute safety. So far, 10Bet has a clean track record in terms of leaking private information or other problems on this front. While this should be the norm, it is still worth praising.
10Bet also cooperates with several organisations in order to address problem gambling. This is another fairly common feature of online bookies – but it addresses an important problem and deserves to be brought up.
Deposit and Withdrawals
If you want to bet online, you need a way of getting your money to the bookie and vice-versa, right? That's why payment methods are an important step in making sure that a bookie is right for you. 10Bet's list of available methods starts with the ever-popular options of Visa, Mastercard, Mastercard Electron, and Maestro. The biggest of eWallets are also available, including Skrill, Neteller, EcoPayz, and Paypal. There are also the options of good old bank transfers and even cheques, although these might take a while to clear.
As far as deposits go, they all have a £5 minimum, except for Neteller which has a minimum of £10 and transfers and cheques which have a minimum of £25. All options are instant, barring the above-mentioned examples.
Withdrawals, on the other hand, might be one of 10Bet's biggest problems. First of all, they take a while – most of them taking between 3 and 5 days, while bank transfers and cheques take up to 7 and 30 days respectively. The latter two are completely understandable, but we feel that the card and eWallet options are considerably slower than some of 10Bet's competitors.
Furthermore, user reviews seem to indicate that this bookmaker has been known to withhold payments for unreasonably long times. They also seem to have a tendency to deny service to punters who end up winning too much. Sadly, this is a fairly common practice even among top bookies and is an unfortunate reality you have to deal with if you want to do some online betting. Still, it deserves to be called out whenever possible.
As far as we can tell, 10Bet's maximum payout is £100.000 regardless of payment method. This is relatively low but should be more than enough for most users. Still, keep it in mind if you're hoping to go for exceptionally large payouts.
This last point, combined with 10Bet's attractive welcome bonuses for new customers, seems to indicate that this betting site is designed to cater more to newbie punters than professional high-rollers.
Customer Support
Generally speaking, one advantage people often cite for smaller companies is better customer service. A smaller bookmaker simply has fewer customers, and is thus able to give more time and attention to each and every one. However, it also means that they have a smaller team dedicated to this task.
Despite how we ended our section on payment methods, however, 10Bet's customer service staff seems quite up to the task. We've found them helpful and friendly, and willing and able to provide answers and resolve issues quickly and effectively.
Contacting 10Bet is easy enough, and done by selecting the "Contact Us" tab on the left-hand side panel of their website. Selecting this option will present you with several options:
24/7 Live Chat:The most popular method of contacting anyone these days, 10Bet's support staff is available 24/7 through their live chat feature. This option is only available to registered users, which is a bit of a shame. Still, they truly are available at any time of the day or night.
Email Support:A slower, although occasionally more convenient method of communication. Customer service is available on [email protected]. We've found their answers to be near-instantaneous, courteous, and generally good.
Telephone Support: Support via telephone is also possible. +359-24925973 is the number listed for most countries, while +353 14-372-476 is the number for customers from Ireland.
What we found sorely missing is a support section in the form of an FAQ. While this is not mandatory by any means, we've found such features very helpful on other betting sites. 10Bet already has tabs with detailed guides to betting rules and statistics, functioning as a small betting academy. Make no mistake – this is a great addition – but it could have been made better by including commonly asked questions and/or problems.
Market & Odds
Now we get into the real meat of this review – how good is 10Bet's online sportsbook in its own right? We've already listed the width of their offer as one of 10Bet's greatest strengths, so here we'll elaborate further. We'll hit you with some stats: 10Bet's sportsbook includes more than 1000 types of bets spread over 30 different sports and betting categories. Their in-play betting feature alone features more than 25.000 different sporting events each month – and that's for football betting alone.
Speaking of football, you can find more than 150 different leagues to bet on 10Bet. That should be enough to provide for even the pickiest of punters.
So far, we've only mentioned football – but 10Bet caters to a lot of different sports as well. Other popular sports are there too, so you can count on some great Horse Racing betting offers – Grand National betting, in particular, is the object of a lot of betting promotions and opportunities.
The list goes on to include more obscure markets such as Darts and Speedway racing. 10Bet also offers eSports betting as an option, albeit not on a scale some competitors do.
This sportsbook is further made amazing by some of the most competitive odds on the market. This aspect of 10Bet's service is what really allows them to be listed up there with the best online bookies, and it's what allowed them to get to where they are in the first place. 10Bet also guarantees to offer the best prices on all UK and Irish horse races, making it a great place for your Cheltenham betting.
What really sets them apart, however, is the fact that 10Bet publishes their odds before any other bookmaker out there. If you like placing your wagers early, this betting site might just be the best one you can find. Combined with a wide range of alternative markets, small leagues, and Asian Handicaps on pretty much every event, 10Bet is a great place for finding value bets.
In-Play Betting
In-play betting is an important factor for many punters, and over the years has grown into an entirely new side to this hobby. 10Bet is fully aware of this fact and has dedicated a live betting tab separate to their regular sportsbook. This makes it easy to access and navigate, which we have to appreciate.
What's more impressive, however, is that the comprehensiveness of 10Bet's sportsbook fully translates into the in-play section. This means that, where other popular bookmakers only cover a small number of the largest markets for in-play betting, this betting site covers all of them. Pretty much every event, no matter how seemingly niche it may be, is available for wagering.
The offer is not only wide, though: there's a considerable amount of depth here as well. 10Bet boasts more than a 100 betting types on certain events, such as Premier League and Champions League matches.
10Bet Live Streaming Offer
Betting sites nowadays have become entire platforms in their own right. They no longer serve as only a place to place your wagers – they can be a home for anything related to sports and betting on sports.
Live streaming is probably the clearest way to demonstrate this. For the uninitiated, live streaming allows users to watch their favourite sports live, as you would on a TV broadcast.
Unfortunately, 10Bet does not offer anything in the way of live streaming as of the writing of this review. Hopefully, this will change in the future, in which case we'll be sure to update this article.
Live streaming is nice and convenient, but it is by no means a central point by which we determine a bookmaker's rating. We still feel that 10Bet's base offer is good enough to overshadow most of its downsides.
10Bet Bookmaker Margin
This bookmaker's margins are a bit of a mixed bag. They're definitely on the higher end of things when compared to competitor's near 10Bet's size and quality, but may be better for some sports than others.
Soccer, for example, is subject to a very high margin of 6.5%. This is fairly surprising, given how football betting is by far the most popular form of betting. We simply feel that perhaps football fans may deserve a better offer, considering they make the bulk of any bookie's customer base.
Things are a bit better when it comes to Tennish, Hockey, and Basketball, which include a margin of 4.1%, 5.3%, and 5.4% respectively. These numbers might not seem that low, but for whatever reason, Basketball margins tend to be a lot higher across the board. Overall, it's not the smallest margin out there, but it's well within the lines of reason.
Overall Review
When it comes down to it, 10Bet has a very old-school approach to how they structure their sportsbook. They are clearly focused on just being having great offers, and everything else is secondary. The sportsbook has a lot of different sports, a lot of different events, and a lot of different markets offered with excellent odds. Everything else is secondary.
We feel that this will resonate well with a lot of punters out there. Many veterans of online betting will cite odds as the single most important factor for bookmaker rankings, and there's a lot to be said for that way of thinking. If this kind of thinking sits well with you – we can heartily recommend signing up for 10Bet.
Speaking of signing up, we only glossed over some excellent sportsbook bonuses that are part of 10Bet's offer. First off, they to double your money with free bets as a first deposit bonus. Besides that, there are special sponsorship promotions, reload bonuses, ACCA insurance, the list goes on.
How to open an account at 10Bet?
If this review left a good impression of 10Bet – and it definitely should – we've included a simple step-by-step guide to becoming one of their millions of satisfied customers. Simply follow this easy guide and get access to one of the best online bookies out there.
10Bet opening account procedure explained
Head over to 10bet.com using whichever internet browser your prefer
Click the "Join Now" button at the top right corner of the page
The first step of the process requires information like your full name, date of birth, and email. As with any such signup, you will need a valid e-mail address in order to verify your account.
The second step will ask you for your country of residence, phone number, and address. Make sure all of the fields are filled in correctly, as they need to be the same as on your personal documents which will be required later.
The third step will ask you to set the username and password for your 10Bet account
You will also be asked to select the currency which you wish to use. Currently, your options are limited to Euro and Pound Sterling.
There is also an option of setting a daily, weekly, or monthly deposit limit. This is a very handy feature, but it can be later changed in the settings.
You can also optionally ask to be notified of special offers, such as sportsbook promotions. Apparently, these will be done through both e-mail, text messages, and even post – so keep that in mind when considering this option.
You will also be required to agree to 10Bet's terms and conditions, privacy policy, and responsible gaming policy.
All that is left after that is to verify your identity, which is done easily enough. You will need a copy of your passport, driver's licence, or another form of a valid ID. You may even be asked to confirm your billing address with a receipt or something similar.
Make sure to use the PLAY10 promo code to get your first deposit bonus. You will have the option of doing this when making your first deposit of £15 or more.
10Bet review FAQ
Where is 10Bet based?
10Bet itself is listed as a London-based company, which is where you will find their offices. However, most of their operations, including the licensing side of things, are run by Ocean Star Ltd., who are registered in Malta.
Are 10Bet legit?
The short answer is yes, they are. They own multiple remote gambling and gaming licenses, which was properly discussed in the corresponding section of this review. 10Bet are a fairly trusted bookmaker with decades of history in the online betting business. They are as legitimate as any other top-rated betting site.
10Bet – how to use free bets?
Free bets are used as a sort of credit, enabling you to make wagers without actually risking your own money. They can be gained mainly through promotions and similar special offers, most notably the signup bonus.
They can be used when making any wager in accordance to the free bet terms of use. Simply select the option of using free bets when submitting your betting slip.
Who owns 10Bet?
As previously stated, 10Bet is owned and run by Ocean Star Ltd. This is a publically traded company and is thus not in the hands of a single owner.
Share your opinion