TitanBet review
BettingFellow Rating: 8.70/10
Although this brand does not immediately pop into your head when we're talking about the world's top online bookmakers, it's hard to deny the TitanBet success. They've been successfully operating for almost a decade at this point, bringing in thousands of customers from across the globe into an all-in-one online sportsbook and betting platform.
As with all bookmakers, they have several strengths compared to the competition – but also some weaknesses. Their technology-oriented approach is sure to fit some punters' needs and offers an interesting alternative to the standard fare. If you're on the market for new betting sites and are considering TitanBet as an option, you've come to the right place. We'll take an in-depth look at their online betting offer and compare it to some of the best betting sites out there, and by the end of our review, you'll hopefully know if this is the bookie for you.
TitanBet – Innovation and Reliability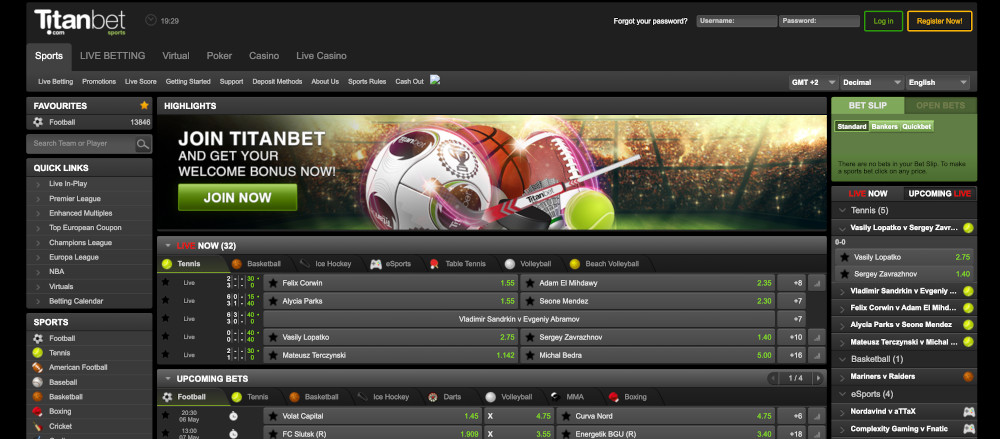 As more and more of the world's sports betting industry moves online, it's becoming clear that the industry is becoming a blend of traditional bookmaking and technology. Safe, functional, and intuitive software is pretty much expected from top-rated bookies – and for good reason. While most punters appreciate things like odds and bonuses above all else, there's something to be said about software as an integral part of the experience of betting sites in 2020.
So, why are we telling you any of this? Well, consider the timeline of the biggest brands among betting companies. The majority of them have origins as traditional high-street betting shops, or were built from the ground up as a bookmaking service above all else. Only then do these companies hire developers and designers to make the actual website and all the services that come with that. TitanBet, on the other hand, is the complete opposite of this story.
TitanBet was conceived as the flagship online sports betting project of Playtech. If your interest in gambling extends beyond just sports betting, that name should be immediately familiar to you. Playtech is one of the world's premier software developers when it comes to igaming. They are well known in gaming circles for their online casinos, online poker rooms, online bingo games, online sports betting, scratch games, mobile gaming, live dealer games and fixed-odds arcade games, and many more.
Back in 2007, they decided to get into sports betting as well, resulting in TitanBet. It took a few years, so TitanBet first officially went online in 2010. That puts them among relatively new bookmakers, but even at its founding, the site was run by people with quite a lot of experience in the gambling industry. Still, gaming software was their primary strength, and that remains true to this day.
This will be immediately noticeable when you access their site. At first glance, it might seem just like any other betting site – after all, the standard sportsbook formula is tried and true and doesn't allow for a lot of freedom of expression. Sure, it looks modern and sleek, but it doesn't take a genius to pick a nice colour scheme.
The strength of TitanBet's design side only comes to light with extended use. Long-time bettors will appreciate how easy it is to keep track of your bets, and how easy it is to find interesting offers you otherwise would have overlooked. Beginners will find the site very intuitive and user-friendly. Additionally, the site features a comprehensive betting dictionary which can be used to familiarize yourself with the basics of betting theory.
Don't get us wrong: the sportsbook isn't some piece of jaw-dropping innovation in the field of design. However, TitanBet takes the familiar interface of top bookmakers and does it extremely well.
Licensing & Safety
If there's one thing TitanBet needs to work on, it would be managing their brand. Even though they are a relatively large betting company with plenty of years of experience, we still get asked the same question over and over again: is TitanBet legit?
Put bluntly: yes. TitanBet is a fully licenced betting site which brings their business to thousands of customers legally. Currently, the brand is owned and operated by a company called Universe Entertainment Services, and this company is the holder of its main remote gambling licence by the Malta Gaming Authority. There are four separate licences, each covering a different aspect of TitanBet's service: the online sportsbook, poker room, online casino, and live casino.
The MGA may not be as highly-regarded as, say, the UKGC or the Gibraltar Commissioner, but they've been making strides in recent years. They have a rather no-nonsense approach when it comes to online gambling regulation, and a lot of respected gambling companies operate under their licence. What we're trying to say is that you're in safe hands – at least from a legal perspective.
All transactions on TitanBet are encrypted using 256-bit SSL encryption, meaning none of the data traffic between the site and its users can be accessed by outside parties. While we could hardly call this technology cutting-edge, it has proven itself as extremely reliable, and there are no instances of security breaches in TitanBet's history. They seem to take their data security very seriously, and we only wish more details were easily accessible to the public.
The bad news is that, because TitanBet does not own a UKGC licence, it is restricted to UK punters. We've noticed that there have been attempts at adding TitanBet to the list of UK betting sites, such as through the acquisition of winner.co.uk a couple of years ago. Sadly, though, it seems all those attempts are now defunct. In addition to the UK, there are quite a lot of restricted countries on TitanBet, including Australia, Belgium, Bulgaria, China, Columbia, Cuba, Cyprus, Czech Republic, Denmark, Estonia, France, Greece, Hungary, Ireland, Israel, Italy, Latvia, Lithuania, the Netherlands, Poland, Portugal, Singapore, Serbia, Romania, Slovakia, Slovenia, Spain, Switzerland, Turkey, Ukraine, and the USE.
Keep in mind that this list is by no means complete and that there may be other countries with restricted access.
Deposit and Withdrawals
The payment options at TitanBet are easily one of their strong suits, boasting plenty of options and easily available information in regards to limits and processing times. However, those same processing times might be an issue for some, but let's look at one thing at a time.
TitanBet card payments are very diverse, and offer more options and easier access than a lot of top bookmakers. They cover the standard methods, with some rarely-seen options: Visa, Mastercard, Visa Electron, Maestro, Diners Club and Delta. Customers also have the option of using Instadebit, if you're looking for a quick and easy method. All transactions are free, and both deposits and withdrawals have a minimum £20 limit. As far as we can tell, there is no maximum withdrawal at TitanBet, which was a nice surprise.
All deposits are instant, but withdrawals might take up to 3 days. This is a bit longer than most competitors, but shouldn't present much of a problem.
In terms of e-wallets and online payment methods, customers can choose between EasyEFT, Sofort, GiroPay, EPS, QiWi, Moneta.ru, WebMoney, Neteller, Entropay, ecoPayz, Yandex, iDebit, AstroPay, and Trustly. The only notable omissions are Skrill and PayPal, but there's plenty of other options to chose from.
Depending on your chosen e-wallet, withdrawals at Titanbet can take up to a few days. The quicker options, such as Neteller, are usually processed in under 3 days, but there are also some methods with long waiting times of 4-7 days. Also, some of these methods are only available for deposits at TitanBet, so be careful when choosing your method.
As far as alternative methods go, users are again presented with a lot of choices. For instance, you can use cash to deposit funds via the Paysafecard or use BitCoin if cryptocurrencies are your thing. All in all, there's plenty of options and the terms are fair, if a bit slow. Most users shouldn't have any problems finding a payment method that suits them.
Customer Support
No site can be considered a top online bookmaker without solid customer support, and we can say that we're quite satisfied with TitanBet on this front. The communication we've had with their service reps was pleasant, and they were helpful and professional. We haven't run into any issues ourselves, but customer opinions seem to point to the fact that they are also efficient in quickly resolving any issues you might run into. The only downside is that they can only be reached during working hours – between 6:00 am and 24:00 GMT every day. This is not a problem in its own right, but a lot of TitanBet's competition has 24/7 support.
In any case, TitanBet boasts a rather robust FAQ section that can be used to answer a lot of questions without contacting the support at all. Still, if this section does not contain the information you're looking for, you can contact TitanBet customer service using any of the following methods:
24/7 Live Chat: The easiest way to contact TitanBet's staff is using the live chat feature of their website during working hours. The feature can be accessed by clicking the "live chat" on the menu bar at the top of the main page
Email Support:A bit slower, but just as easy, e-mails are one of the most common channels of communicating with support staff. The address for help and support is [email protected]. However, a different address is used for submitting documents for KYC verification purposes. All e-mails are typically answered within 24 hours.
Telephone Support: IF you want to talk to someone directly, you can do so by dialling +359-2-489-6902. Keep in mind, however, that this might incur international call fees by your phone operator.
FAX: If you're old-school, you can even fax TitanBet at +44-800-4715-207
Market & Odds
As mentioned previously, most punters consider these factors to be the most important measures of a top online bookie. There's some truth to that – you won't get very far if you can't find what you want to bet on, and the good odds are necessary if you're looking for value bets.
With industry veterans at the helm, TitanBet immediately turned to the biggest betting markets as soon as it went online a decade ago. As you might have guessed, this primarily means football betting.TitanBet is primarily marketed as a football betting site, and that will be immediately apparent as soon as you open it. You can find offers for pretty much any league and event available, and each of them will come with 250+ different markets, including various exotic markets and Asian handicaps.
Of course, there are other sports as well – although TitanBet seems to operate in a narrowly focused manner. The number of different sports and betting categories you can wager on is just above 20. This is noticeably lower than most other top-rated betting sites; however, unless you're looking for particularly obscure or niche sports, it shouldn't be too much of a problem. The offer extends to somewhat more specialized areas such as esports betting, politics, and entertainment.
The upside is that each of these categories is given proper attention, and none of them is there just to pump up the numbers. Horse racing, tennis, and rugby are exceptionally well-represented, with dozens of markets per event. This all adds up to around 8,000 betting offers daily, which is enough to keep you occupied even with the relatively limited selection of sports.
When it comes to odds, the story is a bit different. It's hard to point out any glaring issues, but we wouldn't call the offer amazing either. All in all, the betting odds at TitanBetare consistent and competitive, if a bit uninteresting. If you're primarily focused on finding the best odds for football, for instance, you might find better options elsewhere; however, it's difficult to complain about them, especially when the same quality applies to even the smallest of events and competitions.
In-Play Betting
Live betting on TitanBetis available through a separate tab which can be found near the top of the screen. We'll get the downsides out of the way first: TitanBet's in-play betting screen seems to rely on Flash Player, meaning you will have to download it before placing any bets. This is not bad in and of itself, but the problem is that Google Chrome will stop supporting Flash plug-ins soon. We expect TitanBet will find a different solution, but this threatens to alienate a lot of potential customers.
The tab itself, however, is well-designed and functional, offering a live feed of useful information. It is also fast and reliable, which is key for a good in-play betting experience.
That being said, we found in-play betting at TitanBet somewhat lacking in terms of substance. Simply put, the variety of markets and events is far behind their pre-match offer. This is a common point of criticism for TitanBet, but they have been paying attention to it. They've been working hard on improving this aspect of their service over the years, and we're seeing massive improvements, especially in terms of which sports are available for live bets. While we believe that listening to feedback is commendable, more work is needed if they want to catch up to industry leaders.
TitanBet Live Streaming Offer
TitanBet does not offer any live streaming options as of the writing of this review. While the lack of live streaming is by no means a deal-breaker, a lot of punters enjoy using sports betting platforms to watch sports as well as bet on them. With that in mind, we hope TitanBet will manage to bring something to the table on that front, as it will be a huge step forward if they want to be counted among top online sportsbooks.
TitanBet Bookmaker Margin
Betting odds are largely dictated by bookmaker margins, otherwise known as overround. Now, if you've been paying attention to our TitanBet odds comparison, you can probably see where this is going.
Titanbet's margins are pretty good, but are by no means the best we've seen. They boast an average margin of around 5.3%. This is just slightly below the industry average, so there's little to complain about. Again, you could probably find better offers if odds are all that matters to you or if you're into high-stakes betting.
The margins are best for football, with a rather decent offer of 4.5%. As noted above, tennis and rugby are also quite good. On the flip side, fans of basketball betting and US sports betting, such as ice hockey, baseball, or American football, may be a bit disappointed, as these sports are what's driving TitanBet's average margin up.
Overall Review
It can be hard to provide a reliable overall impression of TitanBet. On one hand, the whole operation is professionally made, and there's not a lot we can complain about. However, the problem is that this bookie does not truly excel in any one field. While registering on TitanBet is by no means a bad move or a mistake, it can be hard to recommend them if you know what else is out there.
The problem is that most punters these days like to shop around, which is smart. TitanBet has no glaring issues, but we've been doing this for quite a while and we know that there are noticeably better options out there. Football betting on TitanBet, for example, is quite good – but there are other sites out there that offer the same sort of quality but have numerous other strengths as well.
However, the people behind TitanBet listen to their customers, which often signals a bright future. Hopefully, with just a little bit of work, TitanBet will finally become a true titan of the betting scene.
How to open an account at Titanbet?
Before we finish this review – we should also note the excellent TitanBet welcome offer. Essentially, the registration bonus is a first deposit bonus of 100% up to £200 in free bets. This, at least, is better than even some industry leaders. All you have to do is register for an account using the promo code BETITAN (without the code, the bonus is up to £100). Here's how to do that:
TitanBet opening account procedure explained
Use whichever internet browser you prefer and go to titanbet.com
Click the "register now" button at the top left of the screen.
Fill out the fields with your name, birth date, e-mail, and phone number. You will also need to provide your billing address.
Decide on account details such as username, password, and if you want to receive information about betting promotions and such.
Click the "Have a promo code?" blue text if you wish to use the above-mentioned code.
Click "Register". Note that doing this means that you agree to Titanbet's terms and conditions.
You will also need to provide personal documents to verify your account. This can be easily done through the contact page or your account page. You will need a scan of your password, drivers licence, or ID.
TitanBet review FAQ
What is the minimum stake at TitanBet?
The lowest amount you can wager on Titanbetis $0.1//€0.1/£0.1. Bear in mind, however, that the limit may be higher for some sports and live bets.
Is TitanBet legal in Australia?
Unfortunately, TitanBet is unable to accept Australian customers for legal reasons. You can find the full list of TitanBet restricted countries above, in our section on licencing and safety.
Where can I get a TitanBet bonus code?
Right here! If you use the code BETITAN, you can get a first deposit bonus of up to £200, instead of the usual £100.
Is there a TitanBet betting app?
There is no official TitanBet mobile betting app. We were able to find evidence that such an app used to exist – however, it is no longer available, for unknown reasons. However, the TitanBet website is fully optimized for mobile devices, so betting on the go is quite possible.
What currencies can I use on TitanBet?
At this time, TitanBet customers can use any of the following currencies: US dollars, Euros, British pounds, Canadian Dollars, Australian Dollars, Norwegian Krone, Russian Ruble, Swedish Krona and South African Rand.
Where can I download the TitanBet app?
As we've stated above, you cannot download an official TitanBet betting app anywhere – it is currently not available and probably won't be any time soon. There are some sites out there claiming to offer a TitanBet APK download, but we don't advise trusting them. As far as we can tell, these are third-party websites not affiliated with TitanBet in any meaningful way. If you want to bet at TitanBet on the go, we suggest simply using the mobile version of the website. It's fully functional and boasts all the same features as the desktop version.
Is there a Titan Bet casino?
Yes. An online casino, live casino, and online poker tables are all available on the official Titan Bet website. That said, all these services are secondary to the online sportsbook. TitanBet is primarily a sports betting site, which means that the casino section of the site can be a tad underwhelming. If you're looking for dedicated online casinos, we suggest looking at sites that actually focus on that type of gambling service.
How long do withdrawals take at Titanbet?
Regardless of your chosen payment method, all withdrawals on Titanbet can take up to 3 business days to process.
How do I make a bet on Titanbet?
This process is rather straightforward and should be familiar to anyone who used an online sportsbook before If you haven't, however, here's a quick guide.
First of all, you will need to log into your Titan bet account and head over to the sports betting section of the website, which can be selected as a tab at the top of the screen. Once there, use the left-hand side panel to navigate different sports, leagues, and competitions. In the middle of the screen, you'll see a list of specific events and some of the more common betting markets. In the case of football betting, it's 1X2 bets (though this can be changed at the top of the fixture list.) On the right side, you'll see a button with the total number of markets for that match – it typically says something like "+202". Click on that button to see all the available betting markets for that sporting event.
Once you've found a bet you want to make, click on the odds you wish to take that bet on and it will be added to your betting slip. You can add as many selections as you want to the slip, which you can see on the far right side of the screen. Multiple wagers can be placed as singles, doubles, accumulators, or any other way you want. Once you're happy with your selections, head to your slip and specify the stake you wish to use for the wagers. Here, you'll also be presented with options to use TitanBet free bets or split the stake in a specific way. If you have enough funds available, just click "Place Bet" and your wager will be submitted. You can check on its current status at any time using the 'My Bets' section of the online sportsbook. Moreover, this is where you can find options to cash out or other betting features.
What is the maximum payout at Titanbet?
All bets, regardless of the sport, market, or event involved, are subject to a maximum daily payout of €50,000 or the equivalent n other currencies. That said, the rules from there on get a bit unclear. This limit applies to all players or "a group of customers acting together who have backed the same combination of selections." This limit also applies to bets made in a series of smaller wagers or at different prices. Furthermore, if you use several accounts to place the same bet, all of them are subject to the same daily maximum. That said, using multiple accounts is a breach of TitanBet terms and conditions anyway, so it's likely to end up with your account suspended.
What languages is TitanBet available in?
At the time of writing this TitanBet bookmaker review, the online sportsbook is available in the following languages.
English
German
Portuguese
Russian
Spanish
You can change the language you're viewing at any time in the top right corner of the screen. Click on the button displaying your current language and select the new language setting from the dropdown menu.
How does the TitanBet welcome bonus work?
TitanBet has recently made changes to how the new customer sportsbook bonus works. The bonus is no longer a straightforward matched bonus on your first deposit. Instead, you will have to make at least 5 bets of €5 or more to get a hold of your TitanBet signup bonus. If your first 5 wagers are placed at odds of 2.00 or higher, you will receive €25 in TitanBet free bets. This bonus will be available to wager with as soon as your 5 qualifying bets have been settled. The outcome of these wagers does not matter. However, you cannot make more than one wager on the same event, even if they are in a completely different market. If you do so, only one of these bets will count towards your bonus qualifications. Similarly, bets made using free bets you previously had on your account do not count. Additionally, if you use system or combination bets, every individual selection of the wager has to have odds of 2.00 or above.
Freebets at Titanbet can be used for any sort of bet regardless of sport, market, or event. The only exception to this rule is that the bonus funds cannot be used to bet on horse racing online.
TitanBet – how to use free bets?
The good thing about Titanbet freebies is that you can use them any way you want, save for horse racing. This means that you can split the €25 bonus into as many smaller wagers as you want, or stake it all in one go. However, there is an 8.00 maximum for betting odds on wagers placed with free bets, which is something you should keep in mind.
To use your free bets, navigate the Titan Bet online sportsbook and fill out a betting slip as you normally would. Once you're satisfied with your selections, type in the desired stake in the usual field. Right next to it, you'll see a check box you can tick to use free bet tokens. Of course, you cannot wager more bonus funds than you have available. That said, it is possible to combine free bets and real money as a stake for a single punt.
As is usual, free bets are not returned to you if you win a bet with them – only the profits of your wager are paid out. However, any profits will go directly to your money account with no turnover requirements. Finally, residents of some countries are not permitted to take advantage of this Titanbet bonus offer. These include Armenia, Australia, Austria, Azerbaijan, Belarus, Bolivia, Burkina Faso, Canada, Croatia, Czech Republic, Ecuador, Estonia, Finland, Germany, Ireland, Kazakhstan, Kyrgyzstan, Latvia, Lithuania, Macedonia, Mexico, Moldova, Netherlands, Norway, Pakistan, Peru, Poland, Portugal, Romania, Russia, Slovak Republic, Slovenia, Sweden, Switzerland, Tunisia, Ukraine and Uzbekistan.
TitanBet – what happens if a match is postponed?
If a sporting event is postponed, cancelled, or abandoned, all bets relating to that event will be considered void. This means that players' stakes will be returned to them in full. There are some exceptions to this rule, however.
First of all, if a match is rescheduled for the same venue within 24 hours of the original time, any bets will stand. However, enhanced multiples or accumulator bets in which any selection has been cancelled or abandoned will be considered void entirely.
How to withdraw money from Titanbet?
To withdraw any amount of available funds from your Titanbet account, log into it and head over to the 'My Account' section. You can find it by simply clicking on your username displayed in the top-right corner of the screen. Once there, select 'Withdraw'. You should then see all the Titanbet withdrawal methods that are available to you. Select the method you wish to use, and specify the exact amount you wish to withdraw. From there on, the process depends on the method you selected. However, almost all of them have detailed explanations that will direct you until your withdrawal request is submitted.
Share your opinion